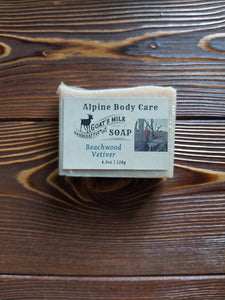 Beachwood Vetiver Goat Milk Soap is a breath of fresh air. This scent starts with notes of pineapple, elderberry, and bergamot. Continues with notes of hyacinth, eucalyptus, and clove blend truly bringing this scent to life leading to a base of driftwood, vetiver, and cashmere.
Ingredients Olive Oil, Coconut Oil, Fresh Goat Milk, Palm Oil, Sodium Hydroxide, Shea Butter, Castor Oil, Kaolin Clay, Sodium Lactate, Fragrance Oil 
You will receive ONE bar of soap - packaged in our biodegradable shrink wrap each bar weighs approximately 4.5 oz. Please note that our handcrafted soaps are hand cut so actual weight may vary slightly. Keep your soaps in a dry, ventilated area when not in use. Do Not let the soap sit in water nor let the water pound on your soap this will make it soft. By creating an ideal environment, your soap will last far longer. 
**Disclaimer - Alpine Body Care does not claim that our Goat Milk Soap will treat, prevent, or cure any skin conditions. You as a buyer should do your own research. Our Soap is just that pure soap that cleans without using harsh ingredients. **
*Discontinue Use If Irritation or Allergic Reaction Occur*
* For external use only - Not Edible*